Gable-End Conservatories
A touch of stately splendour.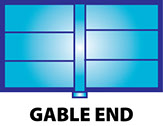 Few styles capture the proud architectural heritage of the conservatory quite like the Gable. Similar to the large Orangeries and classic looking conservatories of yesteryear, this type of conservatory enjoys an imposing front elevation with the windows extending to the apex roof. There are a couple of designs for your Gable –End 'Port' on which is popular the 'Sun Burst' design.
At Pegasus we use only the highest quality roof systems 'K2'.
K2 conservatory systems are one of the largest roof suppliers in the UK today!
Every roof is bespoke and individually made and built in full in the factory before being shipped for delivery.