Building Your Conservatory
You've considered your options, weighed up the benefits and finally decided upon the design and layout of your beautiful new conservatory. So what happens next? Just how does your dream become a welcome reality?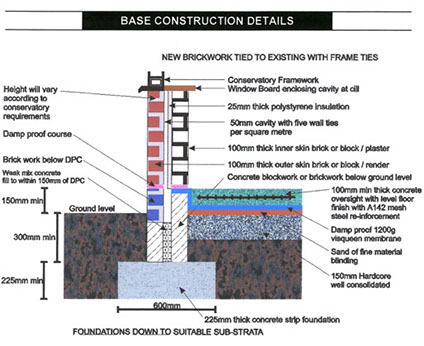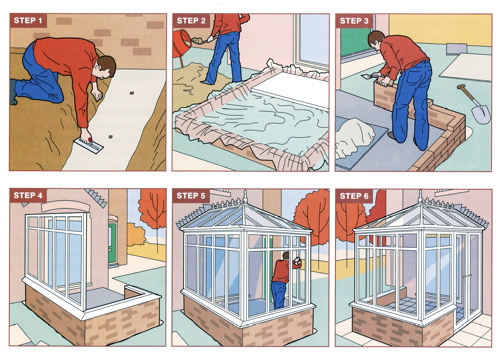 The installer will start the project by preparing the site. As part of this, they will dig the foundations, install the necessary drainage and lay down a concrete foundation.
With the foundations laid and the wall constructed to finished floor level, the installer will now prepare the floor slab.
Next, the installer will construct the dwarf wall if required.
With the base of the conservatory in position and the dwarf walls completed, the installer can now put in the window/door frames which will make up the conservatory sides.
Following straight on from this, the roof is installed. Now, the installer will glaze the roof & fit the sealed glass units to the frames of the conservatory.
From here, all you have to do is furnish your new conservatory and it's ready for you to enjoy for many years to come!
Extras Available
As you can imagine there are many different extras you can chose from to compliment your conservatory. Here is a list of some of the more popular options.
Roof Vents: - These enable your conservatory to have that extra ventilation. Available In manual or electric
Under floor Heating: - A very affordable luxury, ideal for conservatories. Please call for price and brochure.
Floor Tiles: - A popular classic choice for conservatories, many choices available, please ask for details. All tiles are laid / fitted by our own qualified installers.
Colour or bevelled glass: - If you need that extra special touch to your windows or conservatory having some colour in the top lights will add character, the choice is huge so please ask for our brochure.